Midsummer Magic
Photo courtesy of: St Magnus Festival
In Orkney, the words magic and magical are thrown about as lavishly as confetti at a spring wedding. It's not normally folk who live here who use the terms, but visitors enchanted by the landscape, the light, and the friendliness of the people. Apart from the last of those, we Orcadians can't take much credit. We have nature to thank for two-thirds of the spell.
But there's one time of year when there is undoubtedly magic in the air, of a very human kind. The St Magnus International Festival is a ten-day wonder of music, theatre, literature, and creative activity of every variety. Its roots go back more than fifty years, and a firebrand English composer…
Peter Maxwell Davies was in his thirties, making a mark with daring avantgarde works like Worldes Blis, which caused uproar at its premier in 1969, with one critic describing its reception as being 'as near as the Royal Albert Hall has ever come to a riot.'  Max remembered that 'most of the audience walked out, and most of those who stayed booed.'
Seeking respite from such furores, he visited Orkney. By chance he met in with leading Stromness writer George Mackay Brown, and via him, a small coterie of teachers, journalists, and part-time artists, who at the time constituted most of the islands' artistic community. Most importantly, Max spent time in Rackwick Bay in Hoy, and decided that this beautiful but almost-abandoned community would be his home. In 1971, he moved to a cliff-top cottage there, only a few yards from a 300-foot drop into the Pentland Firth. There was never a road to the cottage, so Max had to carry everything he needed up the long steep track through the heather.
Despite his isolation, Max became enthusiastically involved in local arts and music, above all by initiating the first ever organised celebration of music in these northern isles, the St Magnus Festival, in 1977. Along with teacher and church organist Norman Mitchell, Max was one of the founding directors, a role he continued until 1988. After distinguished tenures from Archie Bevan and Glenys Hughes, the festival has been led since 2010 by noted Scottish composer Alasdair Nicolson. A tiny staff and an army of volunteers see that dozens of ambitious events proceed successfully each year.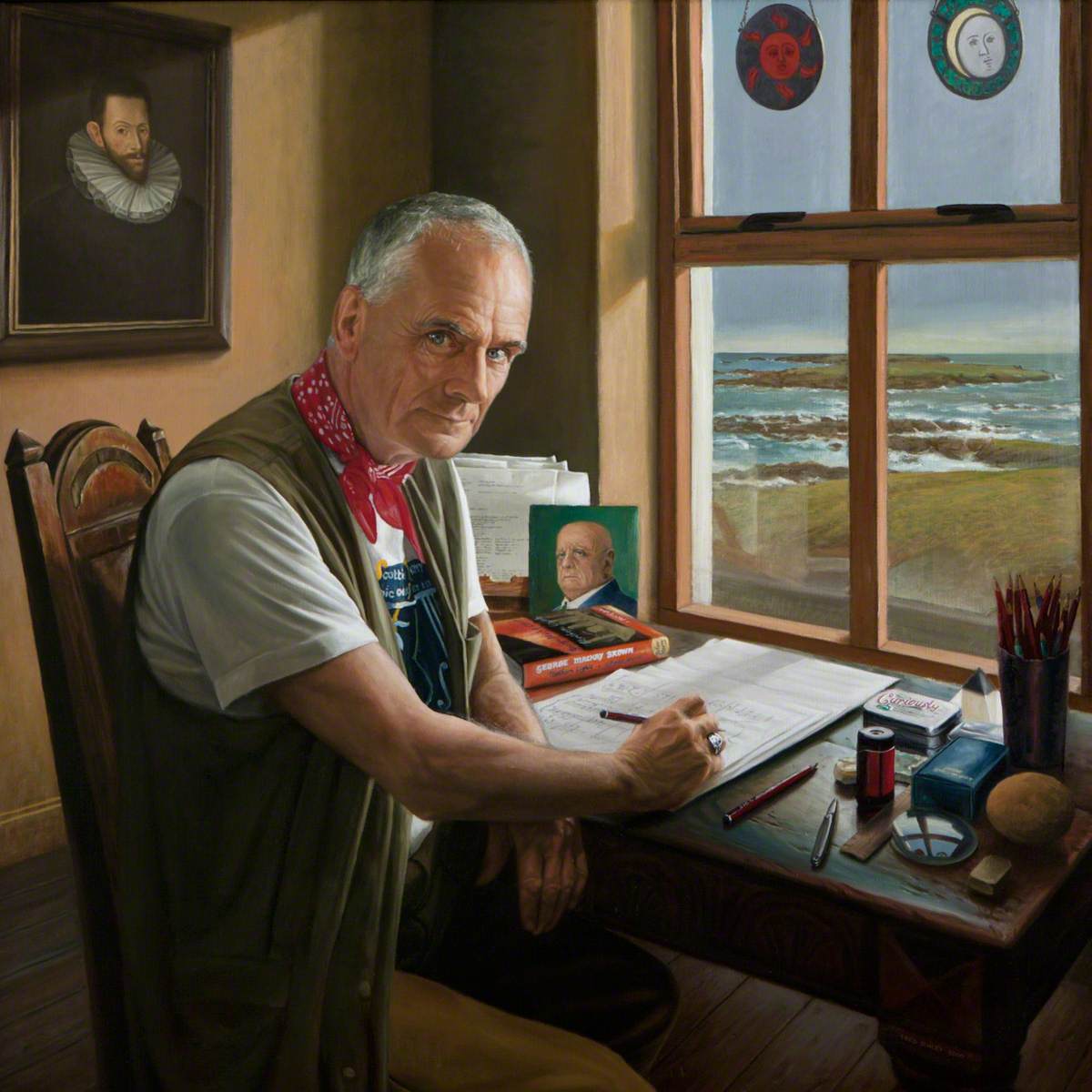 Portrait of Sir Peter Maxwell Davies at his home on the island of Sanday | Photo credit: Orkney Islands Council | Artist: Fred Schley
In its early days, the festival focussed on music, with an emphasis on new work by Max and other up-and-coming composers. Leading soloists were attracted to Orkney by the growing reputation of the festival and by the promise of some midsummer island magic (that word again!) Famous names such as Julian Bream, Vladimir Ashkenazy and Isaac Stern walked the streets of Kirkwall and Stromness, joined in later years by younger stars like Evelyn Glennie, Tommy Smith, and Nicola Benedetti.
There was always a literary thread, thanks to George Mackay Brown, whose diffident invitations brought many of the leading writers of the day to the festival. Edwin Morgan, Liz Lochhead and Seamus Heaney came early on, and more recently Jackie Kay, Carol Ann Duffy and Robin Robertson. 2022's festival has a particularly strong literary line up, with guests including Hannah Lavery, Jenni Fagan, and Cal Flynn (now a Stromness resident herself.) Local language will be explored and celebrated by the Orkney Voices group, led by Alison Miller, who has done much to galvanise Orcadian literature in recent years.
Over the decades the festival's magic spell has incorporated just about every art form imaginable: theatre for adults and children, jazz, folk, puppetry painting, sculpture, printmaking, workshops for composers and writers, installation art, burlesque and even circus. Sometime several of these different forms are combined into one stupendous event. The Mixter Maxter show in 2009 was devised by pupils from Kirkwall Grammar School, in partnership with the National Theatre of Scotland. Joyce McMillan, writing in The Scotsman, called it 'one of the finest pieces of youth project artwork Scotland has ever produced.'
In 2015, the story of some of Ola Gorie's ancestors was staged as part of the festival, in the form of a specially commissioned play called Telling the Truth Beautifully: The Trial of James Kirkness. The show told the tale – entirely true – of how Ola's great-grandfather, James Kirkness, had become involved in a scheme to smuggle gin into Orkney. Beguiled by a rascally ship's captain called Askham, Kirkness agreed to accept several barrels of gin direct from Holland, landed at the harbour's Cornslip at dead of night and rolled down the street into Kirkness's back yard (where our deli, Kirkness & Gorie, operates to this day.)
Unfortunately for James, the excise man discovered the scheme, the gin was intercepted, and Kirkness thrown into Kirkwall jail. Which was, embarrassingly, right outside St Magnus Cathedral, a few steps from his grocer's shop.
The subsequent trial caused a sensation in Orkney, and was reported as far away as Edinburgh. A transcription preserved in the Kirkwall archives formed the basis of Telling the Truth Beautifully, with the court dialogue overlaid and surrounded by song, melodrama, slapstick, and passages of Dadaist chaos.
Sir Peter Maxwell Davies sat in the front row and laughed uproariously at all the right places. He approved of the anarchic spirit of the piece – reminiscent of some of his own early creations.
Afterwards the audience streamed out into the lucent midsummer evening, the sun just dipping below the horizon at 10pm. And they saw the very Cornslip where those contraband barrels had been landed 140 years before. That moment – a coming together of local and national talent to tell the story of Ola's roguish ancestor– truly was magical.